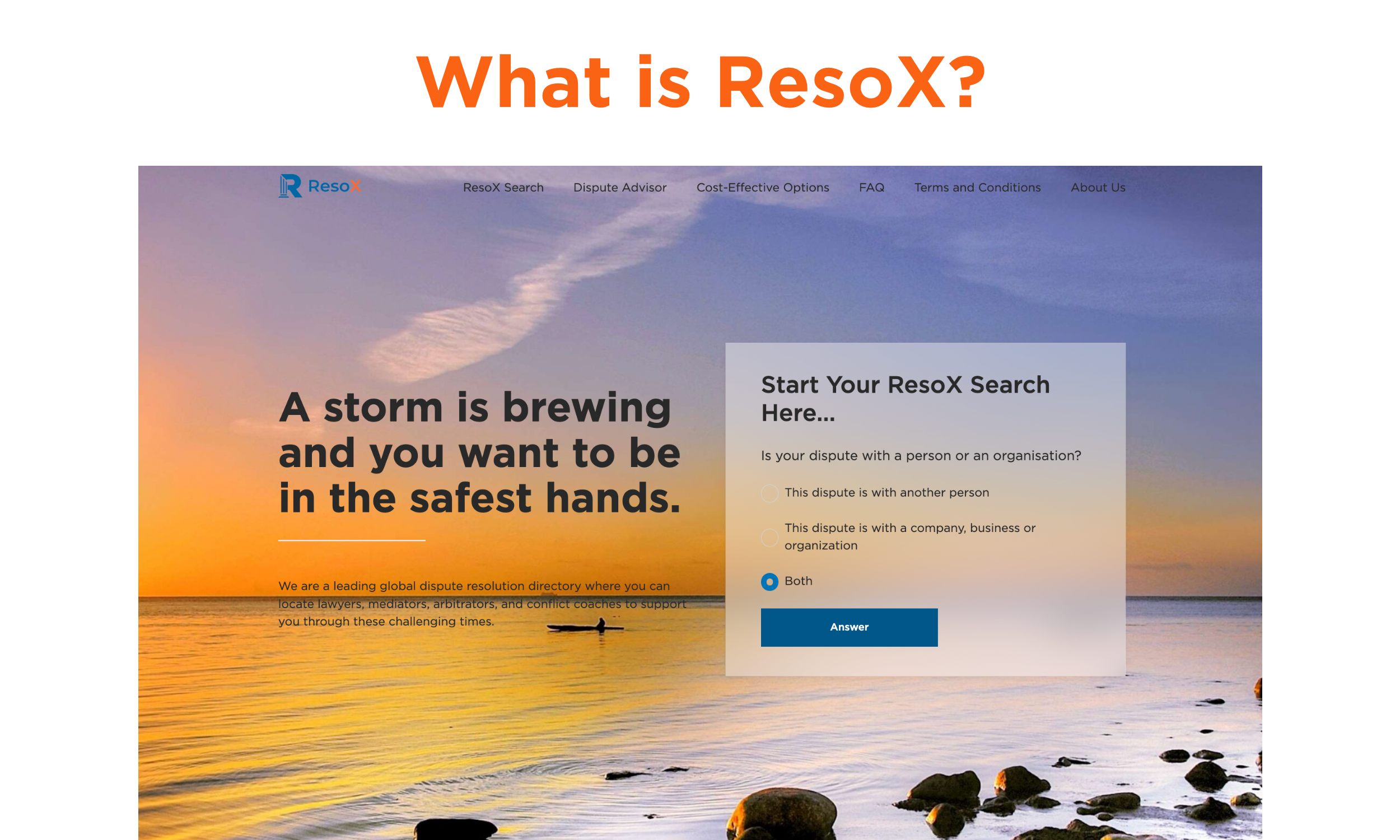 Dispute Resolution
5 Feb 2022
Sneak Preview Part 2
Following previous post which shared our motivations for starting ResoX, we designed v1.0 to comprise the following features:
a) ResoX Search – a user friendly search engine that matches disputants to suitable Dispute Resolution professionals
b) ResoX Dispute Advisor – a series of statements to triage disputants' emotional temperature and preference for a collaborative or litigious approach
c) Low-Cost Options – a resource page that summarizes low-cost or subsidized DR services offered by institutions in each country
With disputants in mind, we will be tasking our development team to source and incorporate premium features that will aid in the Dispute Resolution experience eg. Online consultations, meeting rooms, legal tech plugs ins (scheduling, document management, ODR platforms) etc.
More will be revealed. If you're interested to know more, PM me for a demo.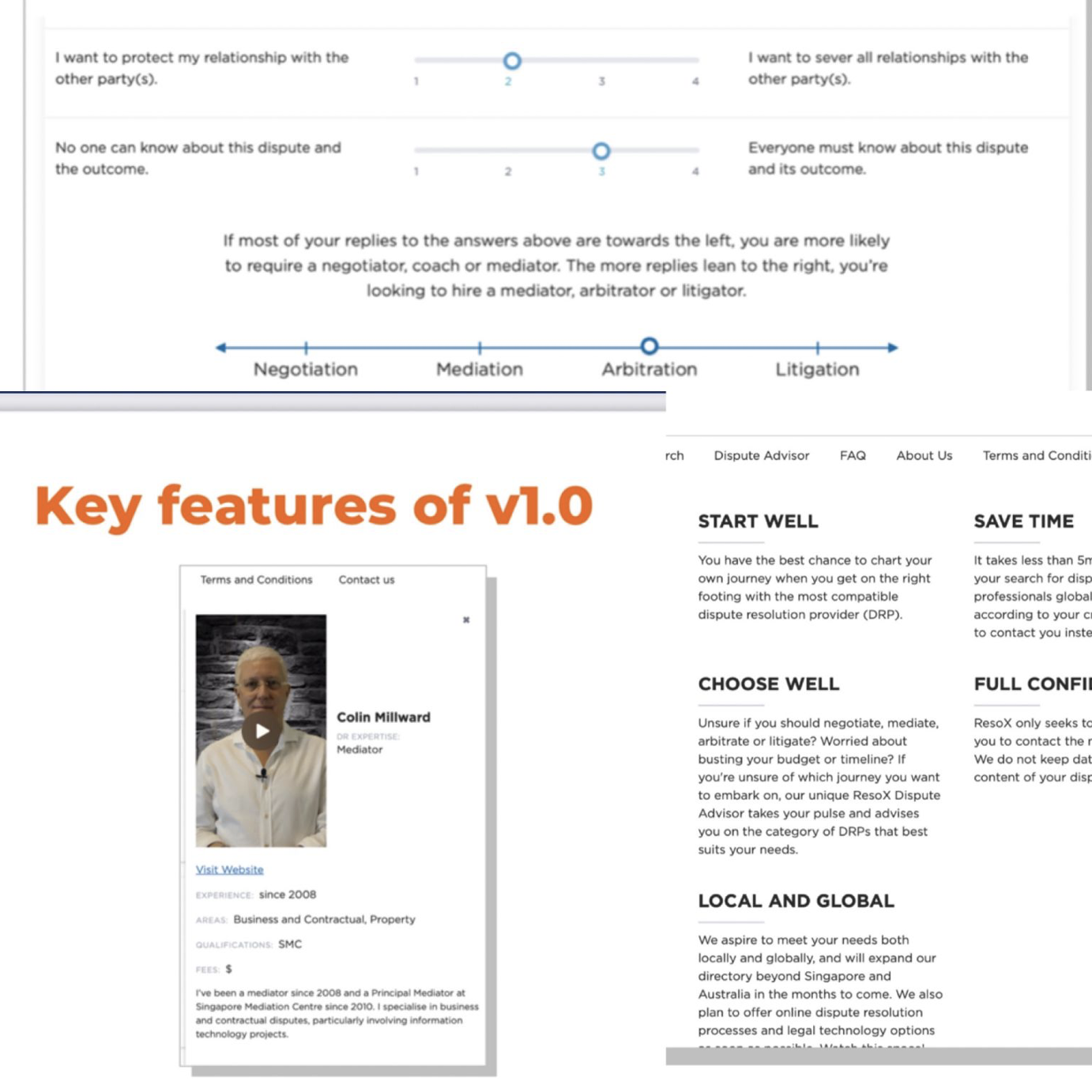 14 Feb 2022
https://mothership.sg/2022/02/work-life-sustainability-alexander-woon/
This is precisely where ResoX (Resolution Exchange) is heading – an online user centric platform like Doctors Anywhere where disputants can easily reach dispute resolution professionals online!
We hope to be a community of problem solvers for disputants to reach easily and cost effectively. Not just lawyers, not just mediators, but dispute resolution professionals working together in tandem.
Colin Millward and I are commencing sign ups this week and preparing for our soft launch in Singapore and Australia come 1 March.
If you're a lawyer, mediator, arbitrator or conflict coach, do take note of this space. ResoX info deck will be released in the next few days.
14 Feb 2022
Colin Millward and I are pleased to share our info deck as we open registrations to dispute resolution professionals (DRP) this week. We are excited to help DRPs profile their expertise and put them in touch with potential clients.
https://docs.google.com/presentation/d/1ufi-Y_s8urfQwYEU9ENOZya00B4nqm6g/edit?usp=sharing&ouid=110111509750255635974&rtpof=true&sd=true
The first 50 completed registrations from each country will receive founding member status. For your vote of confidence in a start-up, founding members will enjoy 50% off our current rack rate, for as many years as you wish to stay with ResoX. This is to thank you for journeying with us as we work out the kinks and improve features in the months ahead.
Please drop me an email at [email protected] if you wish to receive information on registration.
You may also register at the link below for zoom demo / Q&A sessions held on 16 and 25 Feb 8-9pm.
https://docs.google.com/forms/d/e/1FAIpQLSfOQEw5x5MOXmY0MTOc6yXyZtukvzhptccSlNKkmJy-Sg6kCw/viewform
15 Feb 2022
Thank you all who have expressed interest in joining our not so little adventure! We are very grateful for the choruses of support and commitment.
Due to demand, we have added more zoom demo dates, Singapore time.
16 Feb(Wed) 9-10am
16 Feb (Wed) 8-9pm
17 Feb (Thurs) 9-10am
17 Feb (Thurs) 4-5pm
23 Feb (Wed) 9-10am
24 Feb (Thurs) 9-10am
25 Feb (Fri) 8-9pm
You may register your interest for our demo and Q&A sessions here:
https://docs.google.com/forms/d/e/1FAIpQLSfOQEw5x5MOXmY0MTOc6yXyZtukvzhptccSlNKkmJy-Sg6kCw/viewform
Thank you and I look forward to meeting you!
23 Feb 2022
In just a little over a week, we have conducted half a dozen demos, and received positive feedback and enthusiastic responses. Not just in words, but we have close to 30 founding members signing up and over 40 profile registrations to upload into our database by our soft launch on 2 March (Wed) 5pm, when we go live.
We are also pleased to have Mr Douglas Foo, a good friend and prominent business leader, share his thoughts with us at the soft launch.
Once again, ResoX is a global dispute resolution platform designed for dispute resolution professionals to connect directly with the marketplace. We are certain that our user-centric platform is well placed for future developments in the dispute resolution industry.
If you are interested and have not had the time to attend our Q&A sessions, I invite you to view a short video presentation here.
Do consider joining us and be at the forefront of the winds of change!
https://drive.google.com/file/d/1Rgw4RotXdRs445aol7yg3XWUqZ2fnK_p/view
24 Feb 2022
6 months ago, we engaged a Ukrainian software development team to develop our business platform. About a month ago due to accelerating political tensions and risks of cyber attack, they dutifully accelerated project completion, handed over source codes and migrated servers just 2 days ago. Despite some challenges, I've been impressed by their dedication and optimism.
Nonetheless, as we received their message this afternoon, it still came as a shock to us… this war has just gotten that much more personal to me.